It's 4:30am I was sat on the toilet crying (again) saying I can't do it. I felt physically sick, shaking and couldn't move. It was supposed to be the start of day 3 of the 'Ring O Fire' 135 mile ultra-marathon in North WaIes. I didn't even have the energy to close the toilet door at my sister's house, who lives on Anglesey.
I was broken.
I was embarrassed.
I was out of my depth.
I had massively disrespected the challenge.
I had totally given up and I even thought it would be unsafe for my health at this point to continue. It was bringing back memories and the same symptoms of the brain injury I sustain after a collision and seizure in training some 9 years ago in 2013.
To be brutally honest, I was also scared.
My little sister, Suzie, had heard me and come down to say good luck for the final day.
With my pants around my ankles, sat on the toilet crying with my head in my hands I looked up at her and said, "I can't do it, I can't go."
She didn't challenge me, she said the simplest, most beautiful thing.
"Just try and get in the car, that's the first step…"
I said "ok"
It didn't make me think I could do the final day. But she didn't ask me to run, she didn't even ask me to start the third and final day. 'Just getting in the car' was something I felt like I could do.
I wiped some more tears from my face, got up off the toilet, by which time Sarah my sister-in-law was on hand to help me into the kitchen where I burst a few toe blisters and taped each of my toes up to try and give them some level of support.
My feet were so swollen I could only get my right shoe on at this stage. The second toe on my left foot was badly bruised from me kicking a big rock on day one. My wife Catherine (aka Mrs Jacko) brought my bag, hydration salts, food, race number, everything I'd completely forgot. I was focused purely on getting in the car.
We did it.
Step one complete.
I was surprised though. Not that I managed to get in the car but that these three wonderful supporting women in my wife (wife, sister, sister-in-law) all just tried to get me to continue. None of them muttered anything about 'are you ok to continue', I was still worried and a bit scared but none of them even entertained not getting to the start of day three. That gave me some confidence because I was expecting something along the lines of 'I think you've done enough Jacko, this is too much now.' But nothing of the sorts and I thank them massively for that positivity, belief in my and practical action despite the fact I had all but given up. Without them I would have certainly stay at home (our campervan) and not made it to the start of day 3.
However, the embarrassment I was feeling on the toilet, back at the house, was about to get worse as we turned up for the final day race briefing at 5:30am having only managed three lots of 10-minute sleeps between 1:30am and 4:30am that night.
Just putting the left shoe on was sore but I managed to get out of the car and gingerly walked into Aberfraw village hall, where more tears awaited me.
Hoping to see other runners as broken as me. The realisation that I indeed am NOT an ultra-runner hit home. Everyone else was stood up, talking and walking around relatively normally.
I found a chair in the corner to collapse onto and start crying again.
Why did I think I could do this event. What an idiot. I'm so embarrassed and sorry that I disrespected such a challenge.
I had totally given up and my mind was just trying to work out what the best-case scenario could be. We'll walk the first stage, get timed out, be out of the race but I'll just walk the rest with my amazing family that had come to support and done an awesome job getting mw to the end of day two.
I heard nothing of the race briefing, I couldn't concentrate, I couldn't stop crying. Catherine my wife handed me my baby blue bandana, "Dave I know what's wrong, you haven't got your bandana on yet!" she said. In my mind it was like karate kid putting his bandana on from Mr Miagi but the reality was to watch it must have been one of the most depressing things to see!
Bandana on, totally given up but prepared to at least walk out the door and start the final day.
I'd come this far.
I gingerly walked out. Everyone else muster some sort of run or jog. I walked with Catherine just ahead as she'd done for about 40 miles on day 2. The first 500m took about 10 minutes. It was painfully slow.
The rain was hammering down with 20mph winds in our face. It literally couldn't get worse.
After about 1km I don't know how but I tried to turn that walk into a jog. I don't know how but I started running. Still not believing I'd do the whole day but just went to a weird place where running was less painful than walking.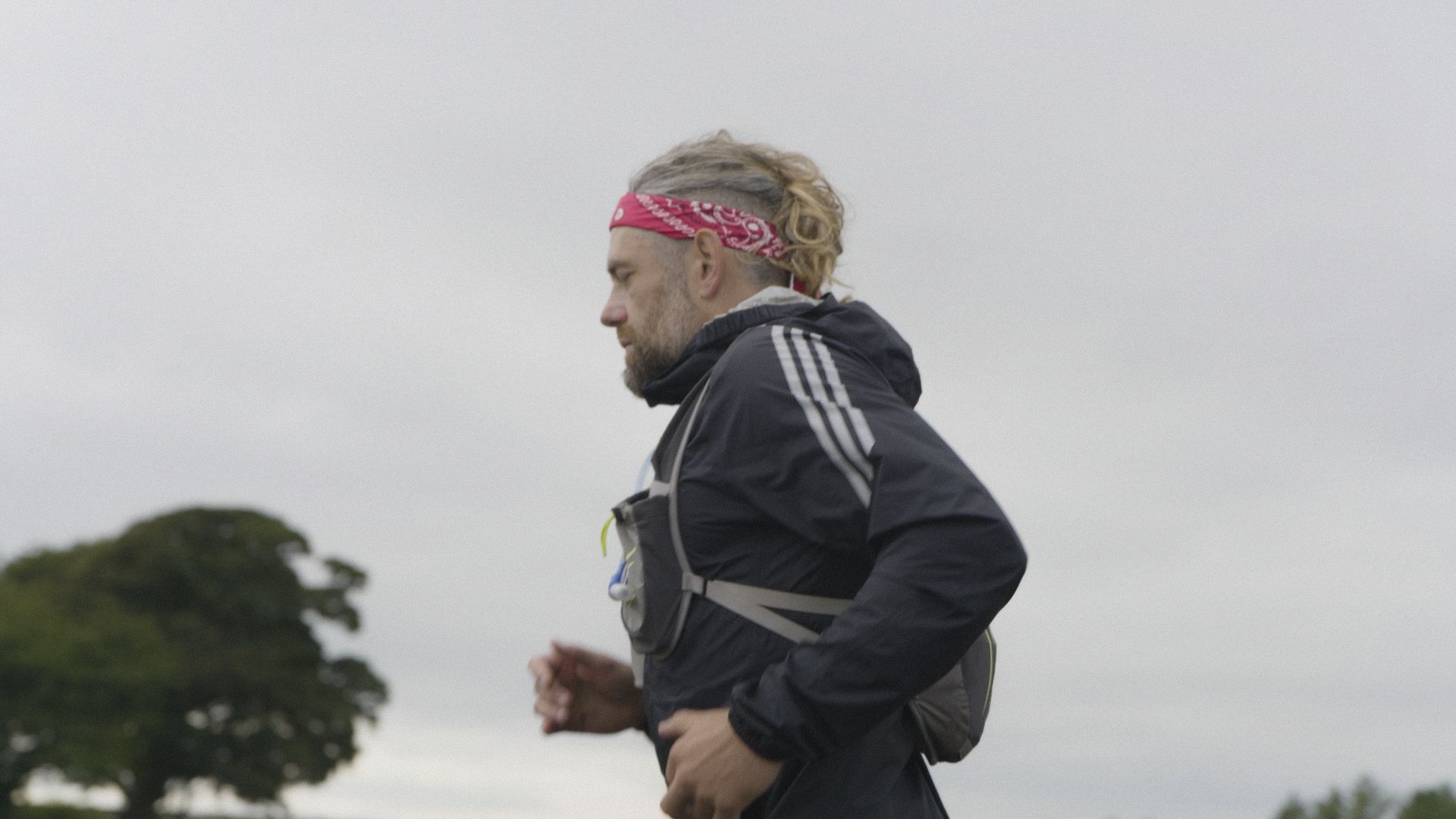 One thing I know did happen… Mrs Jacko aka Catherine aka Joicey aka The Goat aka Mrs Motivator was running with me!
When I say 'with me' I mean about 50-100m ahead shouting 'come on Jacko…'
She is the hero in all this. She ran 80 of the 135miles like this in front of me, before this weekend the most she's even run was 15miles!
She barely ate, just supplied me with food. She'd not trained for it. She'd not mentally prepared to run with me she just did it because she knew I needed her.
It's a beautiful thing to be so broken and so vulnerable that you rely on another human that much. It's a blessing when that human is your beautiful wife.
After a couple of kilometres we saw some people ahead walking.
I shouted to her;
"Let's catch those f*cking walkers"
That was the point we started to believe we might actually make the first check point on Day 3 where I demolished two bacon and egg baps, which tasted the greatest thing my mouth had ever experienced!
33 more miles went by, check point by check point. More tears, more continuous help and support from family and Mrs Jacko guiding me each step of the way on that final day.
It's hard to put into words how it happened but by the end of the day I sprinted the final 200m off Holyhead mountain with my late fathers' words running through my veins 'show them what you've got at the end' – something he'd often say during my hardest rugby matches as a junior player when he was one of our team's coaches.
Together, with support of my family I showed 'them' Dad. Most importantly I showed myself. My limits are not what I think. With support we are stronger than we can ever be individually.
We did it. We finished 15 minutes before the final days cut off. We could barely believe it.
When I crossed the line, we cried again and hugged. My mum hugged me liked I'd died and come back to life. I'm crying now as I write this and remember the moment. It was a beautiful moment.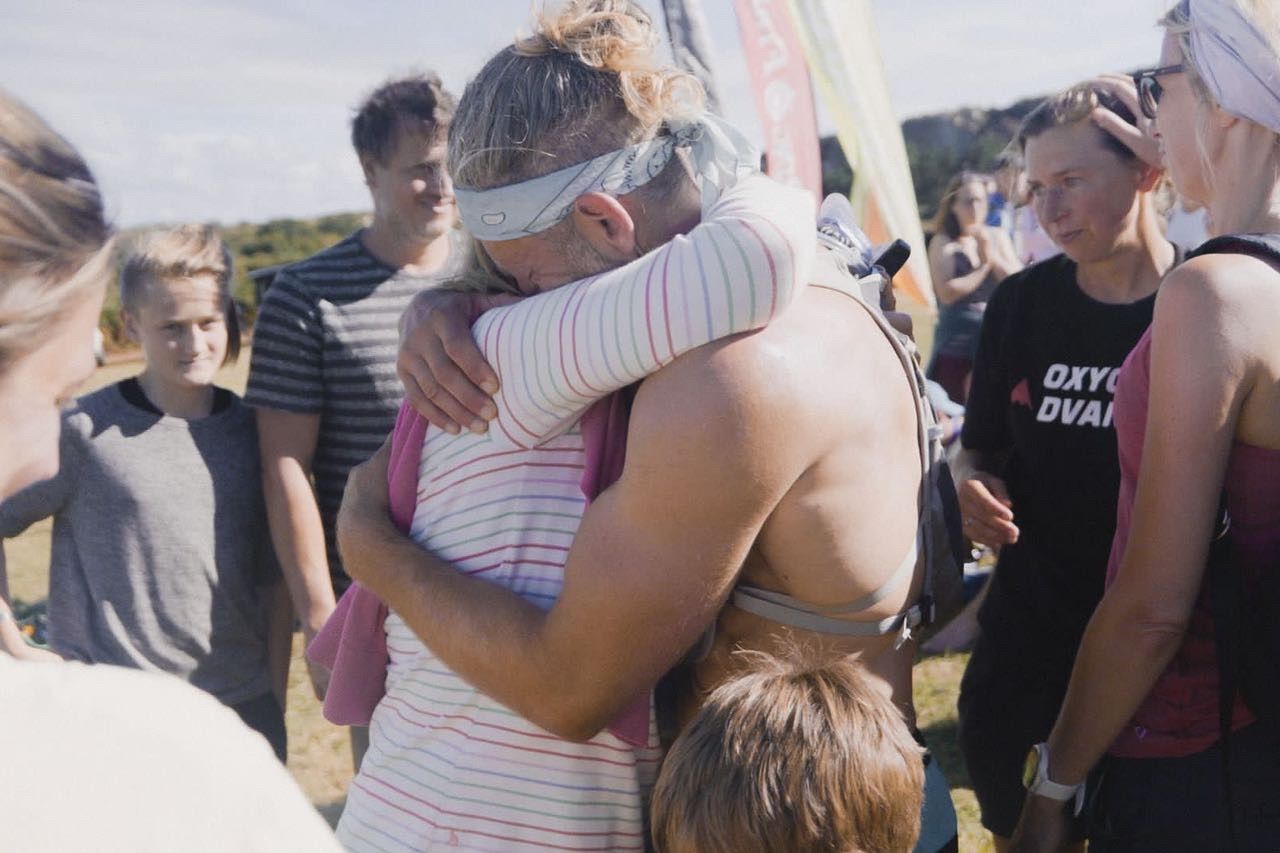 What did I learn?
Believing is hard. But it's not the most important thing. I learned that (for me) the belief didn't matter as much as the ACTION.
I learned that the more painful the struggle the deeper the connection to those loved ones who are supporting you.
Giving yourself permission to be totally vulnerable to being broken is where the magic is. But you need help.
I share this as I reflect on the event NOT to say do as I do, or this will work for you. But simply things I learned during this event that I don't believe I'd have learned if it wasn't so challenging, if it hadn't broken me so much and if I hadn't totally had to rely on family to support me.
My hope is that it might resonate with some of you and you won't have to go through the pain to think about developing deeper connections with yourself and those loved ones around you.
Finally remember later this autumn (hopefully next month!) the short film / documentary of the whole event will be released. We are hoping to celebrate a first viewing with a live launch event which I'd love to see you there and meet in person - keep an eye on your emails and instagram when we can release more details.
Thank you as ever for your support and taking the time to read and connect.
Keep It Nasal
Jacko
Created with